OVERVIEW
"Yergue Azogues la cien valerosa, coronada de olvio y laurel"
San Francisco de Peleusí de Azogues, is the capital of the Province of Cañar. The weather conditions are temperate dry, is located at 2,518 meters above sea level, the city has a population of 33,848 inhabitants, its average temperature is 17 ° C. It is located in the valley of a small river, the Burgay. The city is part of the main urban axis of the country, in the inter-Andean furrow, and is located very close to the city of Cuenca an average of 30 minutes drive. Azogues has a great tourist potential; It was declared as Patrimonial and Urban Value Center of Ecuador, on October 31, 2000 by the Ministry of Education and Culture. Azogues is very well known for its gastronomy, culture, architecture, tourist attractions, and its kind people.


Saint Francis Church

UNIVERSITY AND HOSPITALS
The Catholic University of Cuenca was created by personal efforts of the priest Dr. César Cordero Moscoso. The Illustrious President of the Freedom of Education Dr. José María Velasco Ibarra, gave the decree of creation on September 7, 1970 in the city of Cuenca, with extensions in Quito, Azogues, and the Amazon.
The Catholic University of Cuenca, inspired by Christian principles, trains professionals with solid scientific and technical knowledge, generators of knowledge based on research processes, with social and environmental responsibility and skills to contribute to the solution of the country's problems.

Our Faculty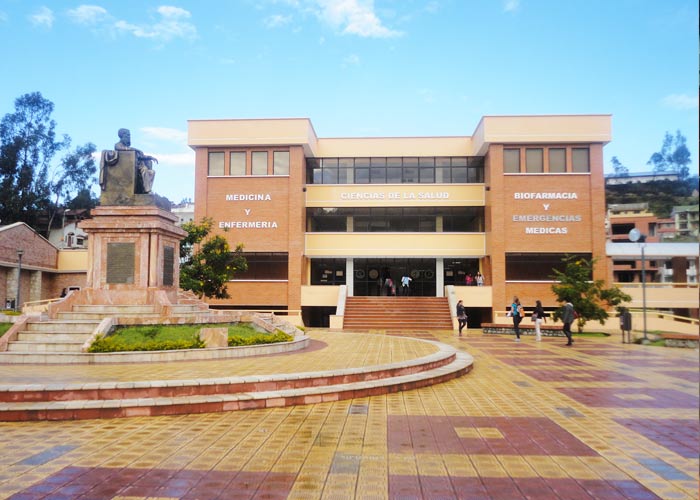 AEMPPI UCCA works with the local hospital "Homero Castanier Crespo".

Homero Castanier Crespo - Hospital


These institutions have different areas of medical practice, as well as facilities and resources to promote student learning; this will allow our exchange students to have a unique, rewarding and fulfilling experience.
RESEARCH PROJECTS AND LABS
We have teachers doing research papers, you have to let us know if you're interested in participating, and we will help you with all the information available.
We have the following labs in our faculty:
Cytology, histology and histopathology
General chemistry, analytics and pharmaceutical technology
Microbiology and parasitology
Biochemistry and immunology
Surgical clinic
Molecular biology and genetics
Clinical simulation
Gynecology and Obstetrics
Physiology and pharmacology
Virtual anatomy
BOARDING
Host Families will provide 2 meals per day
LODGING
We make sure that you have all the facilities and comfort from the moment you arrive in our country by assigning you with a host family
TRANSPORTATION
The bus terminal is located in the south of the city, in front of our University. Universidad Católica de Cuenca Sede Azogues. We have 7 lines of buses, of which two go downtown. Buses cost inside the city are: $0.30. From there you can go to cities nearby like:
Cuenca (30 minutes on bus)
Biblián (15 minutes on bus)
Cañar (1 hour on bus)
Ingapirca Archaeological Complex (1h30m on bus)
Cajas National Park (1h30m on bus)
Girón (2 hours on bus)
Buses to Guayaquil (4h30m on bus) to Quito (10h on bus) the price is around USD 10 and USD 18.
Buses cost outside the city: from $0.30. The price will change depending on the place you're going.
Taxis: minimum fee $1.50 to places nearby. maximum fee is around $3 or 4$
Also We will be glad to drive you if it is possible. If we cannot take you to your destination, the public transport is not expensive, or you can walk if you want, everything is nearby.
MUST SEE
Cojitambo Archaeological Complex

It is located 11 km, to the west of the city of Azogues, in the parish of the same name, it is conformed by an extensive complex of ruins that includes a cañarí - inca layout, with several stone structures that are distributed around a square central.

The Complex has three groups, which are articulated with the Inca path that passes through the base of the hill and that in the past communicated with the ancient Tomebamba.
Cojitambo







Laguna de Culebrillas

The landscape that surrounds the Culebrillas lagoon is formed by pine trees and a path full of pajonales, chuquiraguas, retamas and wildflowers.

Laguna de Culebrillas



Ingapirca Archaeological Complex

Located in the province of Cañar at 3180 meters above sea level, is the most important archaeological complex in the country, the Inca remains that are preserved here, motivate domestic and foreign tourists to visit it and learn the roots of ancestral cultures . The Inca fortress promoted since 1966, is built with carved stones where the Incas idolized the sun god, and has water channels that served for ritual baths.

Castle of Ingapirca

Inca's Face


Santuario de la Virgen de la Nube

The Sanctuary of the Virgin of the Cloud, monumental stone construction that stands out in the highest part of the city.

St. Francis Church


Santuario de la Virgen del Rocío

It's a Gothic style church. Place of devotion and visit of thousands of believers from different parts of the country. It was restructured and raised in magnificent work.

The Church

OTHER IMPORTANT INFORMATION
We look forward to meet you and have a good time here, there's a lot more places to visit here, ¡see you soon!
Follow us on instagram
AEMPPI UCCA