OVERVIEW
Ankara is the capital and the second largest city after Istanbul. Located in the center of Anatolia on the eastern edge of the great, high Anatolian Plateau, in the province of the same name, Ankara is a lovely tourist destination. Besides its cultural and architectural heritage, the city has a major European appearance than most of the other cities in Turkey, with wide-open roads, large hotels, restaurants and museums

Although during its history the city has not had much of transcendence in the ancient periods, was not until the War of the Independence, when Kemal Ataturk declared to Ankara as the capital of the new Republic of Turkey that Ankara got great importance. Today Ankara is an important commercial and industrial city and as center of the Turkish government, the city plays and important role for the Turkish economy as an important crossroad of trade.

As a tourism destination Ankara has many things to offer to visitors. There are Hittite, Phrygian, Hellenistic, Roman, Byzantine, and Ottoman archaeological sites like the Temple of Augustus and Rome (20 BC) which is also known as the Monumentum Ancyranum, that show the periods that the city has passed during the time. There are also beautiful museums displaying its cultural heritage and the life style of locals.
UNIVERSITY AND HOSPITALS
Yildirim Beyazit University is the 97th university in our country and 5th public university in Ankara with 7 faculties,1 vocational school of higher education, 4 graduate schools and 1 conservatory.
Medical Faculty is located in Bilkent.Bilkent is a very well-developed area of Ankara.

Our medical school is connected to Ankara/Bilkent City Hospital which is the biggest of all Turkey also Europe.
RESEARCH PROJECTS AND LABS
Research exchange is the one of the opportunity for students to research and explore innovations, read articles. Our university offers good laboratory conditions and interested professors . We do research exchange for foreign students and also in Turkey. Thanks to research exchange ,students spend their time in most efficient way
(2016-2017)Measurement of Thiol-Disulfide Balance in human body at different pathologies, with the New Method- Biochemistry
(2016-2017)The association between FAS1 (Fatty Acid Synthase 1) and GSTM1 (Glutathione ?S-transferase 1)polymorphisms and the resistance to BCG(Bacillus Calmette-Gu)- Genetics
BOARDING
Boarding will be in our faculty building which is very close to our hospital or in hospital refectory directly.
LODGING
We host our students at dormitory or at house. Open dormitories are announced every summer by 'Higher education credit and hostels institution'.So the conditions of dormitories change every year.The main features of dormitories in Ankara are;
-Dorms are separated by gender.
Also we use our students' house for our incomings with or without a host. The houses are generally 3 room 1 saloon and also toilettes and kitchen included. Their adress and transportation ways change every year because the houses that incomings are going to stay, change too. We try to choose houses and dormitories as close to hospital as we can in order to shorten the distance and time for transportation.


TRANSPORTATION
There are buses named as 'Belko' just in front of the exit door of airport. People can go to city center by using these. From city center (Kizilay) to hospital which is located in Bilkent, people can take a bus or use underground which take 20 minutes and cost around 2.5 Turkish Liras. Our faculty and our hospital (Ankara Bilkent City Hospital) is located in the Bilkent. Bilkent is also a subway station name. So in order to reach our buildings, anyone could use the subway from all around Ankara and get to Bilkent station. Then after 10 minutes of walk you can easily reach our faculty building. There are also buses from the centers of Ankara to Bilkent. You can see the route of the subway that is used for transportation to Bilkent.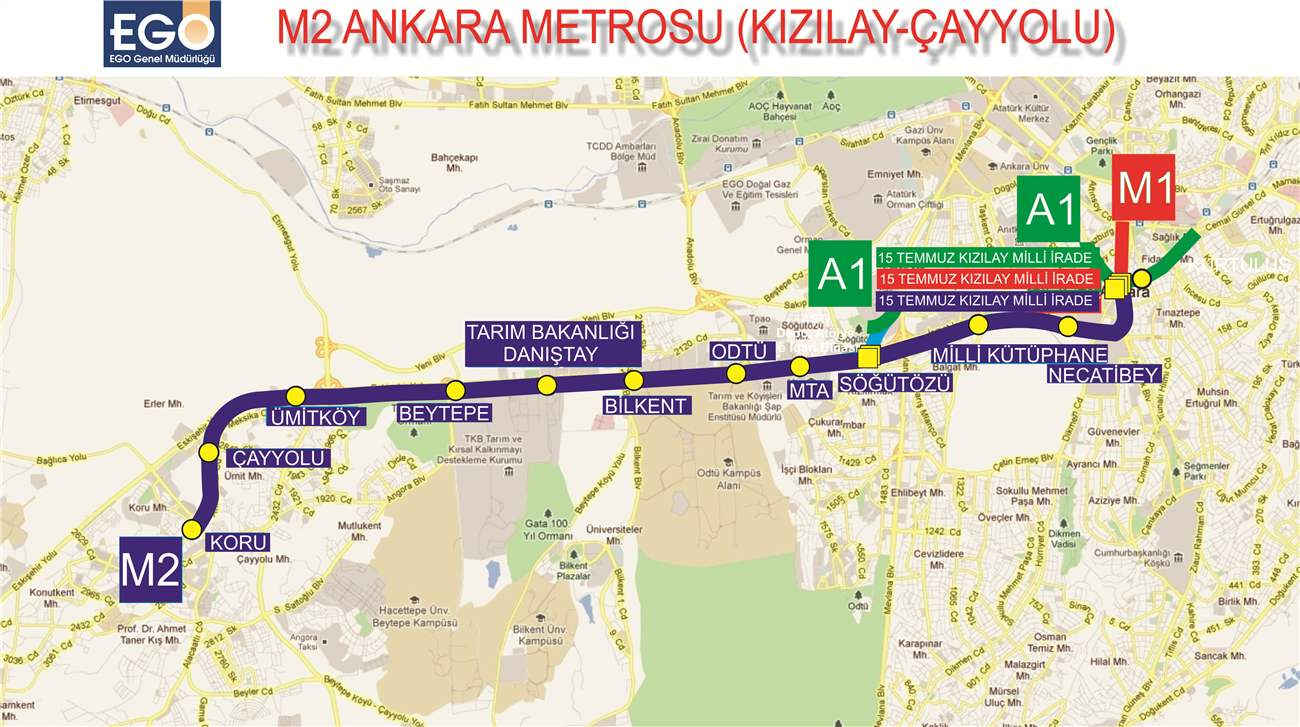 MUST SEE
Anitkabir

open daily, museum open daily except Mondays - situated on an imposing hill in the Anittepe quarter of the city is the mausoleum of Mustafa Kemal Ataturk, the founder of the Republic of Turkey, completed in 1953. The Museum of Ataturk and War of Independence is located inside Anitkabir, including a large collection of Ataturk memorabilia and paraphernalia, and a section for the War of Independence containing panoramic views of the war fields.

Haci Bayram Mosque

located next to Augustus Temple, Haci Bayram Mosque was first built in 1427, but later on modified to its current structure in the 17th and 18th centuries. The impressive interior has a wooden ceiling, and Kutahya tiles.

Atakule Tower

One of the highest structures of the city, with a shopping mall located under the tower. In the top of the tower, there is an observation desk, giving good views of the city.

Ulus and Republican Ankara

the historic Ulus on and around Ataturk Boulevard has many buildings built during the early years of the republic. Once the center of Ankara, the architecture is also effected by the republican revolutions. Observe the facades of the buildings, which mainly show a national movement effected by the revolution, using neo-classical Turkish symbols and in contrary to the Arabic influences of the Ottoman period. Better examples are the State Art and Sculpture Museum Building, Ethnography Museum Building, and historic bank buildings on Ataturk Boulevard.

Hamamonu

recently restored neighborhood with Ottoman style timber Ankara houses, and one of the most interesting parts of Ankara to visit. Located down the hill from Ankara Castle near Ulus, Hamamonu is an entire neighborhood of narrow streets, old houses and historic buildings. Most old houses are now restaurants, cafes or souvenir shops. In addition to the neighborhood itself, there are 4 historic mosques to visit: Haci Mussa Mosque, Tacettin Sultan Mosque, Karacabey Mosque, Sarikadi Mosque.

Museum of Anatolian Civilizations

Display of artifacts remained from Asia Minor/Anatolian civilizations. Oldest artifacts in display date back to Paleolithic. Selected as the European Museum of the Year in 2002, this museum is one of the best in Turkey and it makes Ankara worthwhile to visit.

State Art and Sculpture Museum

Hosts galleries with temporary exhibitions as well as a permanent display of Turkish art from late 1800s up to today.

http://www.guzelsanatlar.gov.tr/TR,2411/ankara-resim-ve-heykel-muzesi-mudurlugu.html

Ankara Ethnography Museum

Exhibits traditional Turkish clothes and goods.

Cengelhan Rahmi Koc Museum

The industrial museum is established next to the entrance of Ankara Castle in Cengelhan, an historic caravansarai. The technological progress from 1850s onwards is on display in this museum housed in the building. The museum contains various curios and collectibles including model trains to model sowing machines. It also contains a good collection of children toys and rooms hosting assorted technological collections such as cameras, diving equipment, telephones etc.

Cer Modern

The recently-opened (Apr 2010) modern art gallery of the city, Cer Modern is housed in the historic maintenance hangars of Turkish Railways. Contemporary art and concerts.

War of Independence Museum

This originally was the building which hosted the First Turkish Grand National Assembly, in which the War of Independence, fought in 1921-22 was directed from, as evidenced by photographs and other items in the display. Waxworks of former Turkish presidents are also on display.

http://www.kultur.gov.tr/TR,25301/ankara---kurtulus-savasi-muzesi-i-tbmm-binasi.html

Ankara Aviation Museum

Various aircrafts, aviation items, missiles, and whatnot are in the exhibition, as well as a number of MiGs from the other side of Iron Curtain.

MTA Museum of Natural History

A museum on nature, fossils, geology. Located on the highway to Eskisehir.

Ankara Castle

Standing above Ulus, on a high hill overlooking Ankara, Ankara Castle is a medieval citadel of more than a millennium old.

The best way to discover the castle is on foot. The main gate is near the clock tower. Once passing the main gate, the inner castle has several historic buildings, some of which are well restored and serving as souvenir shops, cafes, restaurants and galleries. Walk further to reach the stairs taking you up the castle walls, where you will have panoramic views of Ankara.

Roman Bath

The outdoor museum is formed of the ruins of an ancient public bath remains from the Roman Empire.

Gençlik Parkı

One of the landmarks of Ankara. A big amusement park.

Harikalar Diyarı

A park with sculptures of cartoons.

Park with Swans

One of the most famous park in Ankara. Townspeople love spending their time here.

Kocatepe Mosque

The biggest mosque in Ankara.




OTHER IMPORTANT INFORMATION
-