OVERVIEW
São Paulo has a larger and more diverse population of Brazil: of the more than 40 million people, about 3 million are immigrants of 70 different nationalities. The state has vocation for business, but is also full of cultural interest, especially in the capital.
The São Paulo Art Museum, the State Pinacoteca and the Latin American Memorial are some of the cultural options in the city of São Paulo, the state capital. Sampa, as it is popularly known, also offers fun at parks like Ibirapuera, the fairs in various districts and a busy nightlife on Monday.
Also known as the Latin American capital of gastronomy, the city offers international restaurants of high standard and exquisite regional cuisine signed by Brazilian chefs. São Paulo is also famous for hosting one of the biggest LGBT parades in the world to commemorate the month of LGBT pride in São Paulo in May.
Those who visit the State have more than 5 thousand means of lodging in the 645 cities. In addition to more than 620 km of beautiful beaches, such as Guarujá and Ubatuba, São Paulo offers rural and ecological tourism in places such as the Serra do Mar State Park and the Serra da Bocaina National Park.
In Ilhabela, known as the sailing capital, dozens of beaches and about 400 waterfalls are the divers' delight.
Cities with climates, such as Campos do Jordão and São José dos Campos, besides caves and waterfalls, besides São Luiz do Paraitinga, are other attractions of the State
UNIVERSITY AND HOSPITALS
The Hospital available for student income is the hospital of the Beneficência Portuguesa University.
Recognized as one of the six Hospitals of Excellence in Brazil, we have 836 beds, attending the emergency room, ICUs, hospitalizations and surgeries.
For family medicine, we also have the structure of the Brazilian health system (UBS)
RESEARCH PROJECTS AND LABS
BOARDING
One meal per day will be offered. Our local meal consists of bread and coffee with sirloin in the morning and lunch and dinner with rice, red beans, some kind of meat (meat, eggs, chicken, pork or fish), vegetables and salad. In addition, there are many Italian, German, French and Japanese culinary references.
LODGING
Student houses, family homes, or student republics, where students share a home and create a family bond. They will have their own bed, with access to a bathroom that can be shared or not, internet access, at home or in college.
TRANSPORTATION
Single Ticket
The Single Ticket is a smart transport card that is used to pay fares on buses, subways and trains. In it, you can charge with the amount that you prefer, and each shipment in public transport is discounted a value of R $ 4.00.

Uber
Uber is an American multinational provider of electronic services in the area of private urban transportation, through a transportation application that allows location-based search in English and e-hailing, offering a service similar to the traditional taxi, popularly known as "paid saloon" services

Taxi service
A taxi is a car used for passenger transportation and fitted with a meter. Generally, it has a double expense in relation to Uber's use.
MUST SEE
1

Art Museum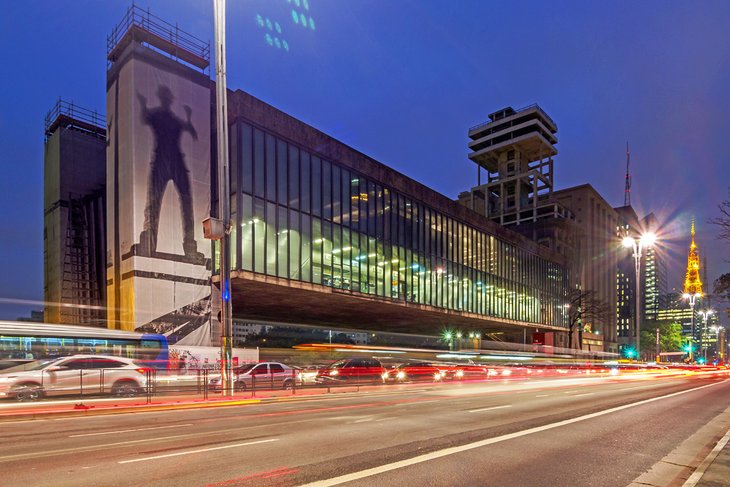 The São Paulo Museum of Art, locally known as MASP, only opened in 1968, but has the most representative and comprehensive collection of Western art in Latin America. You will see works of impressionists and modern masters - Renoir, Van Gogh, Matisse, Manet, Debret, Picasso, Miró, and 73 Degas bronze sculptures by themselves. Although it goes back to Renaissance artists, this is one of the first art museums in the continent to focus on artists from the mid-20th century and later, as well as on contemporary artists in Brazil, including Portinari and Di Cavalcanti. Her excellent collections put her in the league with the Tate Modern, the MoMA and the Pompidou Center. The building itself, designed by the Brazilian and Italian architect Lina Bo Bardi, is a classic of modernism.

Address: Avenida Paulista 1578, São Paulo
2

Municipal Theater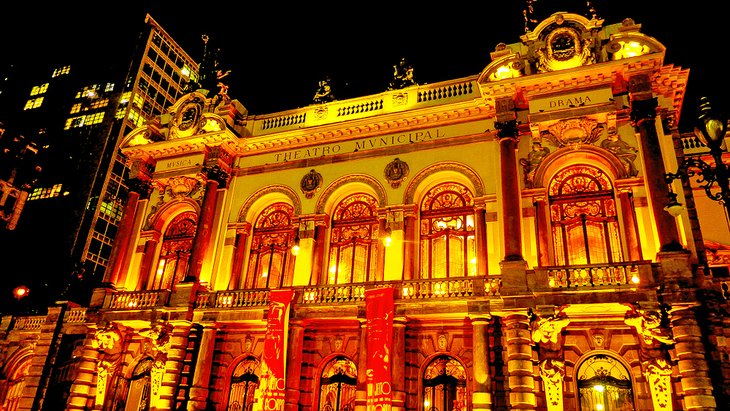 Architect Ramos de Azevedo modeled São Paulo's Municipal Theater after the Paris Opéra, drawing on an eclectic mixture of Art Nouveau and Renaissance Renaissance themes. Almost immediately after its completion in 1911, it became a major city attraction. This status was enhanced in 1922, when it was the venue for a landmark event that revolutionized the arts in Brazil. The Week of Modern Art Introduced and spotlighted artists who Were To Become icons of the Brazilian Modernist Movement, Celebrated names including painters Emiliano Di Cavalcanti, Tarsila do Amaral, Anita Malfatti and Menotti Del Picchia; composer Heitor Villa-Lobos; playwright Mario de Andrade; and sculptor Victor Brecheret.

The center major for the performing arts in South America, the theater has hosted performances by Internationally renowned singers, dancers, musicians, and performing artists que have included Carla Fracci, Rudolf Nureyev, Titta Ruffo, Enrico Caruso, Maria Callas, Arturo Toscanini, Heitor Villa-Lobos, and Mikhail Baryshnikov. The building was completely restored to its original grandeur and re-opened in 1991. It is home to the São Paulo Symphony Orchestra, the Coral Lirico (Lyric Choir) and the City Ballet of São Paulo.

Address: Praça Ramos de Azevedo, São Paulo
3 Ibirapuera Park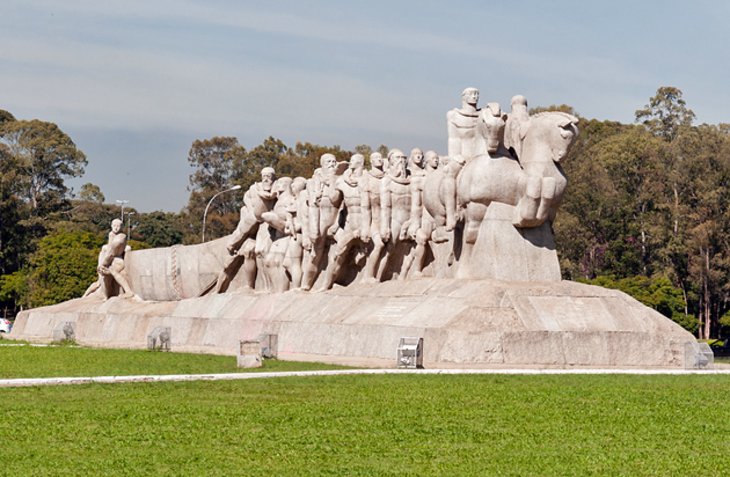 Ibirapuera Park was laid out by landscape architect Roberto Burle Marx, with buildings designed by Oscar Niemeyer. The immense green space with its monuments, museums, playgrounds, gardens, trails, lakes, and performance spaces is a leisure paradise for the people of São Paulo, as well as a showcase of modern architecture and culture. Commemorating the pioneers from São Paulo who opened up Brazil's interior, the Bandeiras Monument is a magnificent work by Brazilian sculptor Victor Brecheret, with imposing heroic figures. An obelisk commemorates those who died in 1932 in the struggle for a new constitution.
Auditório Ibirapuera, the ultra-modern music hall designed by Oscar Niemeyer, is considered one of São Paulo's best concert venues. Museu da Aeronáutica e do Folclore, the Aeronautics and Folk Art Museum, displays aircraft models and flight equipment on the ground floor, with nearly 20,000 exhibits devoted to folk art and traditions from all over Brazil filling the remaining floors. The large Museu Afro-Brasil celebrates the contributions of Afro-Brazilians and their social and cultural history.
Address: Avenida Pedro Alvares Cabral, São Paulo
4 Contemporary Art Museum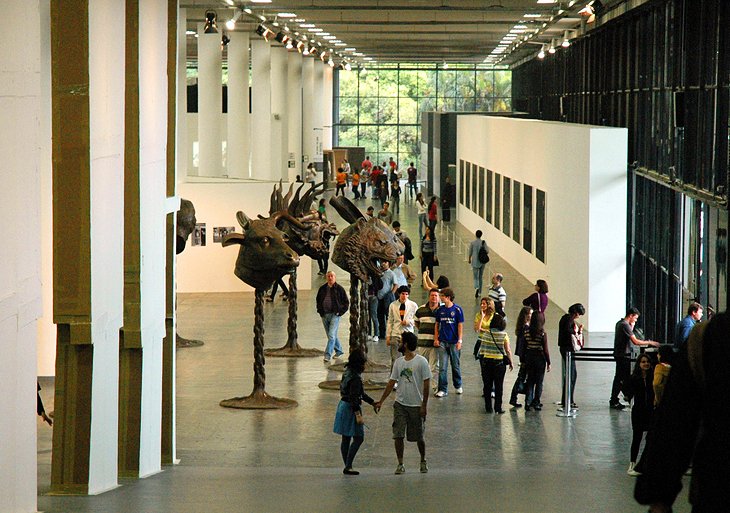 Inside Parque Ibirapuera, the Pavilhão da Bienal de Artes, designed by Oscar Niemeyer and completed in 1957, houses the excellent Museum of Contemporary Art along with special exhibitions and shows. The museum's more than 8,000 pieces represent a wide range of art schools, from Picasso, Modigliani, and Léger to leading Brazilian painters Tarsila do Amaral, Anita Malfatti, Portinari, and Di Cavalcanti. Among Latin America's largest collections of 20th-century Western art, the museum also displays works by Marc Chagall, Wassily Kandinsky, and Joan Miró. The Sculpture Garden was designed by Roberto Burle Marx and displays 30 large works in an outdoor setting.
Address: Gate 3, Parque Ibirapuera, São Paulo
5 Parque da Independància and Museu Paulista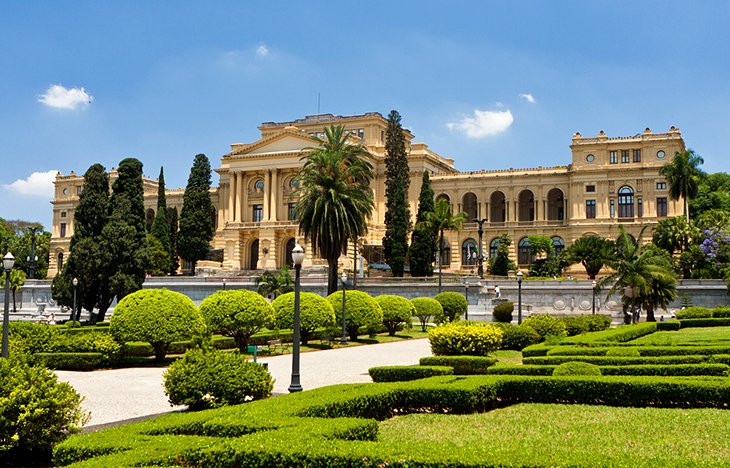 In São Paulo's Ipiranga district, traversed by the stream alongside which the independence of Brazil was proclaimed by Prince Pedro, Independence Park commemorates that 1822 event. Overlooking the formal gardens of roses, topiaries, and fountains inspired by those at Versailles, is the Museu Paulista, more commonly known as the Museu do Ipiranga. Its Italian architect, Tommaso Gaudenzio Bezzi, created an eclectic design modeled on Italian Neoclassicism, reminiscent of Renaissance palaces. Inside are large collections of costumes, decorative arts, paintings, and furniture of the Imperial Period.
Address: Parque da Independência, Ipiranga, São Paulo
6 Sé (Cathedral)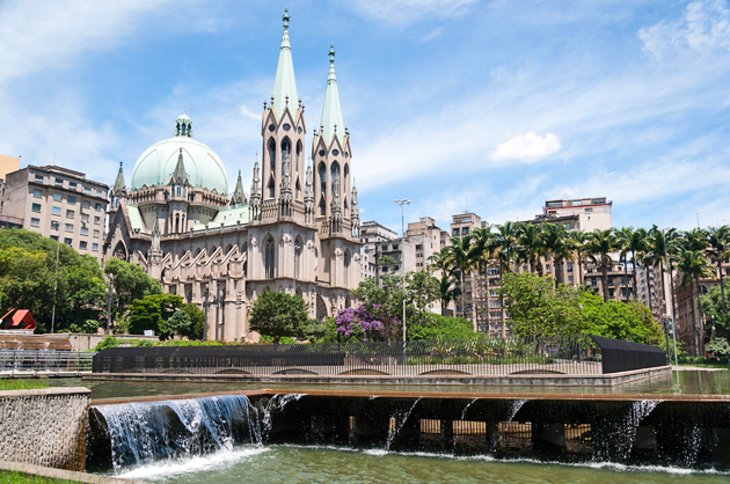 The neo-Gothic cathedral was built on the site of an earlier cathedral and took from 1913 to 1967 to complete. Its building was interrupted by two world wars, which made it difficult to get the mosaics and other decorative elements from Italy. It was consecrated in 1954, on the 400th anniversary of the foundation of São Paulo. On the façade are statues of Old Testament prophets and Christ's disciples. Although the rest of the church is neo-Gothic, it is capped by a Renaissance-style dome. The interior has several interesting features, including the 10,000-pipe organ and stained glass windows picturing the history of Catholicism in Brazil. Be sure to notice the capitals on the columns, carved to represent Brazilian flora (branches of coffee and pineapples) and fauna, including armadillos. You can tour the crypt below the main church to see marble sculptures and tombs. The cathedral sits at the historic center of São Paulo, and is a good place to begin a walking tour of the old town.
7 Courtyard of the College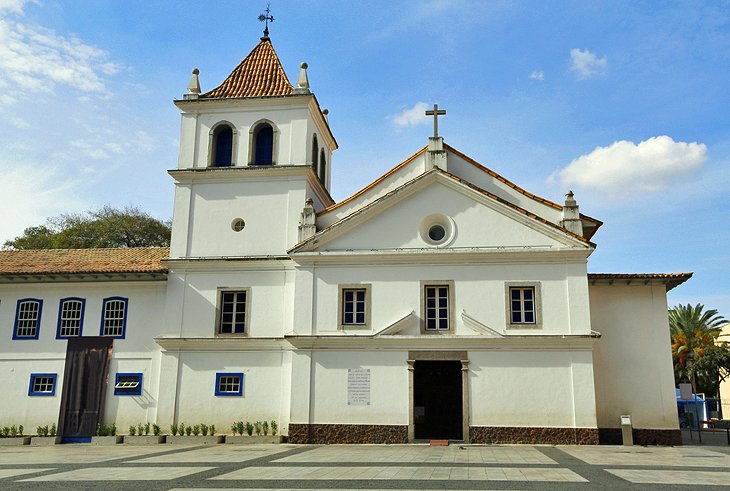 The square known as Pátio do Colégio, immediately north of Praça da Sé and the cathedral, is the original nucleus of São Paulo. Here, Manuel de Nóbrega and José de Anchieta founded the College of the Society of Jesus, a residence and center of study for Jesuits, and here on January 25, 1554, the first mass in the settlement was celebrated. The attractive plaza is now occupied by the Historical Museum, a museum of sacred art, and the Capela de Anchieta. All that remains of the 16th-century building are the doors and a stretch of clay wall. In the gardens of the museum is a pleasant café.
8 Mosteiro de São Bento (Benedictine Monastery)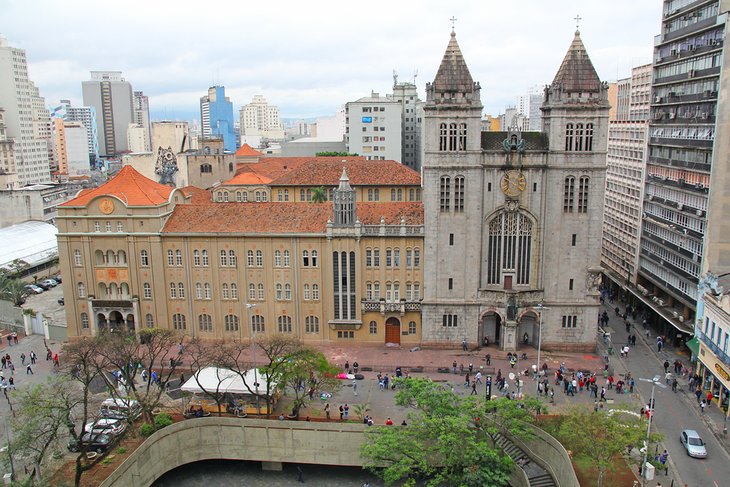 The Benedictine monastery and its church were founded in the late 16th century, but the current church dates only from 1910-22. Don't discount it for its modern origin or its rather austere exterior, as the interior is richly painted and includes 17th-century statues of St. Benedict and St. Scholastica carved by Agostinho de Jesus. A number of other notable Benedictine artists contributed to the decoration of the monastery. Also notable are some impressive stained glass, an image of the Virgin in a robe set with pearls, and a crucifix dating to 1777. This is an active brotherhood, and the monks accompany the morning mass with Gregorian chants. Stop in the monastery shop to buy cakes, breads, and chocolates made by the brothers.
Address: Largo de São Bento, São Paulo
9 Our Lady of Light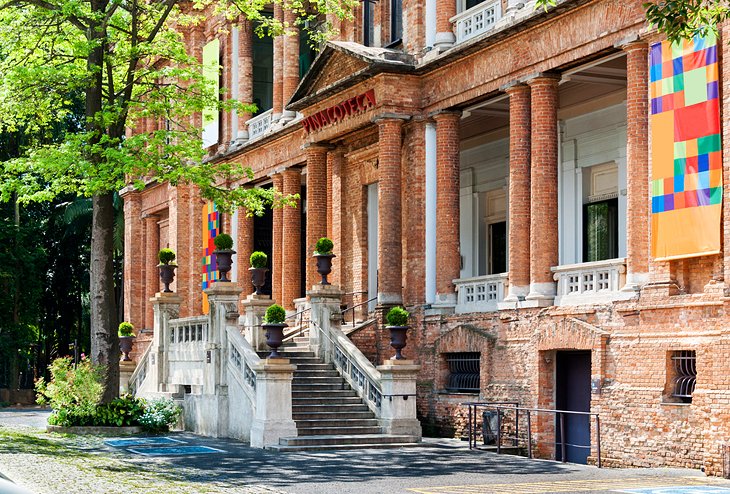 On Avenida Tiradentes, which skirts the Parque da Luz, are the convent and church of Nossa Senhora da Luz, typical examples of the traditional architecture of São Paulo: in spite of their fairly recent age - they were built in the 18th century - they are constructed entirely of clay. The Nossa Senhora da Luz convent now houses a Museum of Sacred Art, which has a large collection of about 11,000 items, including statues, pictures, altarpieces, and furniture from the 16th through 19th centuries. Also on Praça Tiradentes is the Pinacoteca do Estado, the State Picture Gallery, the oldest museum in São Paulo. It contains about 2,500 pictures, drawings, and prints, mainly by Brazilian artists.
Address: Praça da Luz, São Paulo
10 Largo de São Francisco
To the west of the cathedral and the Pátio do Colégio, Largo de São Francisco is a street in the city center named for the monastic complex that faces it. The Igreja de São Francisco de Assis, the church of St. Francis, was built in 1644 and is one of the city's oldest surviving churches. Its interior is clearly based on those of Portugal in that period, with a cheerful, airy feel and plentiful gold flourishes. It was restored after a fire in 1870 and again more recently. Not so the neighboring church of the Ordem Terceira de São Francisco, the Third (lay) Franciscan Order, built from 1676 to 1791 and so seriously showing its age that it is closed to visitors. The third building in the complex, the Franciscan friary, has been occupied since 1828 by the Law Faculty of São Paulo University. The neighborhood is a little run down and is not a place to visit at night.
Address: Rua Borges Lagoa, São Paulo
Where to Stay in São Paulo for
Sightseeing
Unlike many large cities, where most of the main attractions are clustered near the historic old town, São Paulo's are spread across the city. Luckily for tourists, a good Metro system brings all the sites within easy reach. It's best to choose a location in the Paulista neighborhood, close to the São Paulo Museum of Art or south of it, near Ibirapuera Park, where several other attractions are located. Here are some highly-rated hotels in this area of São Paulo:
Luxury Hotels: Several top-rated hotels in the Paulista area surround the São Paulo Museum of Art, close to restaurants and shopping. Renaissance Sao Paulo Hotel has a pool and good city views from the upper floors, while InterContinental Sao Paulo offers a large fitness center along with a pool. Some rooms have balconies. At the edge of Paulista, a few blocks from Ibirapuera Park, Marriott Executive Apartments also has several good restaurants within walking distance.
Cheap Hotels: Despite being in the center of the bustling Paulista neighborhood of shopping and restaurants, the rooms are quiet at Ibis Paulista. Melia Paulista is directly across the street from Trianon Metro Station, and the airport bus stop is one block away. Also close to the art museum, shopping center and restaurants, Tryp Paulista has a sauna, fitness room and small swimming pool.
OTHER IMPORTANT INFORMATION
Welcome to São Paulo!



Remember to bring your own white coat and stethoscope. You must comply with the Brazilian standard NR 32: do not wear accessories, wear closed shoes, and tie your hair.